Warning: Do Not Close.
Your Order is Processing….
While your order is processing, I want to again congratulate you again on your decision to order
Natural Health Secrets from the Bible
.
You've made a fantastic decision today and your body — and your waistline — will thank you.
Now before we complete your order,

I want to make you a final, very special, one-time offer that you will only see on this page
.
For Americans struggling with weight loss, I've found a breakthrough Superfood that can weight loss easier than ever.
Now you can shed fat the way
God Intended
with 44 Natural Ingredients.
However, 'Big Pharma' Doesn't Want You to Know About This…

Our pharmaceuticals industry doesn't want you to go 'all-natural'. That would be bad for business. They'd prefer to get you addicted to their drugs so they can keep their all-mighty money machine running.
But, We are 'Taking Them On.'

Chris Peterson and Dr. Patrick Conrad teamed up to create an All-Natural, Superfood drink that gives you youthful energy, reduces your food costs, and helps you drop some pounds.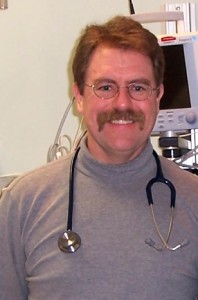 And with that introduction, I'd like to introduce:
American All-Natural Superfood

The Affordable and Convenient Way to Get Protein, Vital Nutrients, and the Natural Supplements You Need in One Meal – Now in Delicious Vanilla Flavor!

Never before has one formula contained so much protein AND essential, natural nutrients.
Just look what's in it!
We wanted this to be a complete mixture with nearly everything you need to look and feel great.

So we included all these incredible superfoods in our mix, each one specifically chosen to maximize your health, energy, and weight loss:

 Most importantly, unlike other 'green drinks' this one includes 20 grams of protein per serving! …and it's not whey protein from cows. This is all-natural pea protein.

Spirulina and chlorella – these inflammation-reducing algae superfoods detoxify your body and boost your immune system.

Grass extracts help heal your intestinal lining, and chock full of anti-oxidants.

Pro-biotics to help with digestive issues and super-charge your immune system.

CoQ10, a powerful antioxidant that protects the body from damage caused by toxins and aging

Organic Broccoli, Spinach, Beets, Carrots, Tomatoes, Parsley, Cabbage, and Kale (it's a like a salad in a delicious drink) for essential nutrients AND alkalinity

Organic Apples, Blueberries, Raspberries, and Strawberries for a power-pack of vitamins and anti-oxidants (a diet rich in berries has been shown to reduce cognitive decline!)

Cinnamon to help lower blood sugar levels

Turmeric to help lower inflammation and joint pain

Acerola Cherry, which is super-loaded with Vitamin C, to prevent scurvy (which can be caused by survival food!) and help heart health

Flax Seeds to control inflammation, digestion, and cholesterol naturally

Chia seeds which are loaded with Omega 3's and great for heart health

Cocoa powder for heart health and energy

Kelp, a rich source of Iodine for thyroid support and detoxification

Milk thistle and dandelion root to help remove toxins from your liver and body, giving you clear thinking and more energy

Our proprietary blend of digestive enzymes and probiotics for better digestion and so that your body can absorb the nutrients of all of the food you eat in a day

Ginger to add a delicious taste, boost your immune system, and regulate your digestion and stomach issue.

Aloe Vera – yet another 'miracle' plant we've included, for regulating your digestive system, detoxifying your body, and boosting your immune system
Imagine what it would cost to get all of these ingredients individually! (I'll tell you – $5.70 per serving!!)
Even with ALL of that, They Went a Step further
They then made sure that the mixture is:
SUGAR FREE (It's sweetened with stevia!)
Completely GMO-Free
Dairy, Milk, and Whey Free
Soy Free
Gluten Free
Peanut Free
Shellfish Free
And Their Price is Right
I checked other mixes out there and was stunned at the prices they were asking!
Most were missing protein, so I immediately dismissed them. Protein is critical.
Some had some of the critical ingredients but were significantly more expensive.
Others were in our price range, but they were LOADED with sugar (that's a quick way to put on weight, feel tired, and have poor memory) and had HALF of the vital nutrients this has! They have ZERO sugars in their mix!
Just looks at this comparison chart!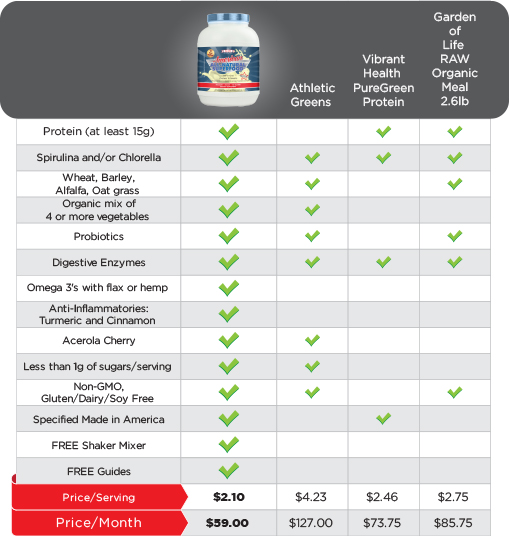 So, they don't charge:
$127 for a month's supply like the famous Athletic Greens (that's $4.23/serving and doesn't even include protein!)
Or $73.75/month like Vibrant Health PureGreen Protein (that's $2.46 per serving! and has lots more sugars, and no veggies, no healthy and cleansing grasses, no probiotics..the list goes on..)
Because Chris and Dr. Conrad wanted to make something healthy and affordable:
Price today:


$127




$73.75


$59/month

For one month's supply (28 servings, 32 oz, which is TWO POUNDS) of delicious and complete protein-and-greens, in one delicious vanilla-flavored drink…delivered to your home every month.


Oh, and don't worry, you're backed by our rock-solid, 100% money-back guarantee.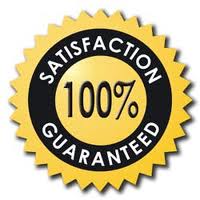 They'll send you one canister/month, and you can cancel anytime with an email or a phone call!

Click on the green "Yes! Add to my order" button below now to take advantage of this amazing offer while you still can.

Remember: This is the only time you'll see this page and the only time you'll be able to order American All-Natural Superfood at this incredible price.
Click the Green "Yes! Add To My Order" button right now.